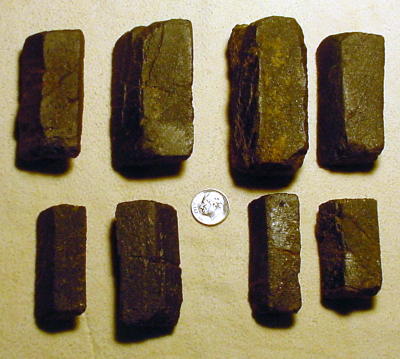 STAUROLITE CRYSTALS GALLERY 2

FAITH CROSSES-FAIRY CROSSES-CROSS ROCKS

IF YOU MAKE A DIFFERENCE IN 1 PERSON'S LIFE, YOU MAKE A DIFFERENCE IN THE WORLD.

    For many years Grey Eagle and I were fortunate enough to be able to carry many groups of people to find their own staurolites.  These were exciting times of making a difference in people's lives, and two students stand out in our memories.

    One was a lady, 52 years old, who had never been allowed to play in the dirt as a child.  Consequently, she never got her hands dirty as an adult.  At our staurolite dig she covered herself in mud, while exclaiming that she had never been happier in her entire life!  She has never forgotten that day and how it changed her whole perspective of the world.

    The second student was a young man who eventually attended several staurolite digs with us, collecting even the broken pieces of the mineral.  Because we had taught him to place staurolites over his doors for protection, he used the pieces to surround his home.  This young man made 3 circles around his entire house with broken pieces of staurolite crystals.  Today, he never fails to say how much those times of collecting and how living with the staurolites have made a difference in his life.

    With the passing of the people who owned the staurolite digging site, unfortunately so passed our ability to carry groups to find these precious little stones.  We do sell the real staurolites that we have collected over the years, so they are available. 

    To make a difference in someone's life, it does not have to involve a staurolite crystal.  The "digs" were about sharing and caring during a unique experience.  They taught appreciation, respect and love for our Mother Earth, with all her precious gifts to give.  They were about giving back to her for what was taken.

    In every day of your life you can make a difference in the world.  If you share and care, appreciate, respect and show love to just 1 person, the world will be a better place for all.  If you give back to our Mother Earth just 1 small token of yourself, as a blessing, an offering, a prayer or just to say "I Love You", every day you WILL make a difference in the world.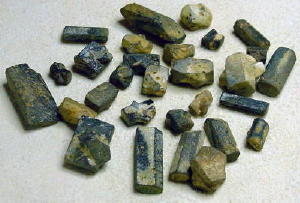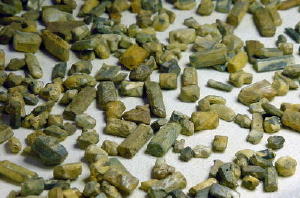 The Staurolite Crystals shown in these 2 photos were found in Fannin Co., GA.  This area produced some of the best quality crystals in the world.  The site that yielded these crystals is now a gated community.  The average size is 1/2 inch to 1 inch.

Just like with snow flakes, no 2 Staurolite Crystals are ever exactly alike.  Some are single 6 sided crystal "bars" and some are twinned, meaning that 2 or more 6 sided crystals are joined together.  These crystals have been sorted to remove heavily damaged and unformed stones.  Crystals from this category, such as the ones shown above are $20 each uncleaned.  #FS 1

RARE HEALING STAUROLITES FROM NC

These extremely rare Staurolite Crystal Healing Stones are now extinct because the source is buried under a housing development.  All Staurolites come from the Mother Earth wearing a natural schist, which can be removed.  The crystals in the photo at the left have been cleaned and oiled. 

Cleaned and oiled Staurolite Crystals from this site are available in the Boulder/Denver CO area through our representative, Pat Meyer.  Please contact us for her information.

  Staurolite Crystals that you purchase from this web site will be wearing their natural schist when you receive them.  Cleaning instructions are included. 

Please contact us for current prices and availability.  #FS 2

PROTECTION STAUROLITES (Not Shown)

For many years we have taught our students that Staurolites are used for protection.  We suggest that you place 4 stones above each door into your home and plant 1 stone in the ground  at each corner of your home.  You might also want to consider 4 stones for your automobile if you have one.

As protection crystals we offer slightly damaged 1/2"-1" stones for $10 each.

#FS 3

GARNET STAUROLITES

The Staurolite examples shown at the left are not well formed, but usually are Garnet on the inside.  Many of them have small Garnets attached to the schist on the outside.  These are extremely rare, very heavy and some of the largest Staurolites that we have collected.  The Garnet Staurolites are found in Georgia and make a great addition to any healing stone collection or gemstone collection.  Please contact us for current prices and availability.

#FS 4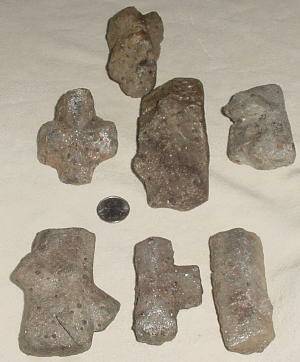 All Staurolites shown in these images are EXAMPLES of what we have available for sale.  We do not sell 90 degree (Christian Cross shape) Staurolites because of their rarity (1 in 10,000 are found).  All stones are guaranteed authentic, formed by Nature, not by man.

Digi Mic Web Design Copyright