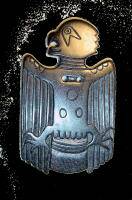 "Etowah Spirit"

Sacred Pipe Stone carving by Grey Eagle, Cherokee Artist

1.  Dear Grey Eagle and Golden Hawk....I am the most blessed recipient of the beautiful "Savannah Cross" carved by Grey Eagle.  It was my 60th birthday present from Peggy.  I just wanted you to know it is the most beautiful gift I have received and I truly cherish it.  I am honored that it came to reside with me for the rest of my time here....Thank you so very much for sharing your gifts of carving and creating with me.  It will be a most prized inspiration for me.    Barbara G., Tucson, AZ

2.  Dear Marci and Grey Eagle....Your "children" arrived this morning!  I ran out to meet the UPS driver knowing that he was about to deliver a package from you!  I wish you could have seen how excited I was as I opened the box and carefully unwrapped each of the carvings.  They have even more energy than I was expecting!  THANK YOU!!  I am so appreciative that you have made such powerful tools available to all of us.    Porsche T.,  Boulder, CO

3.  Dearest Marci and Grey Eagle....Thank you in advance for Steve's Sacred Pipe Stone...it is the most precious gift I can give him.    Peggy H.,  Savannah, GA

4.  Wow, it (Grey Eagle commissioned amulet) is amazing and very powerful!  My hair stood on end when I picked it up to look at it.  Thank you to both you and Grey Eagle for creating such a spectacular piece.  It is absolutely perfect...and I am extremely grateful.    Terry H.,  Atlanta, GA

5.  Hi Marci....The amulet just came and I am in love!  The beads are wonderful too, I hadn't expected this to be so charged.  Oh!    Maggie B.,  Boulder, CO

6.  I continue to be amazed by the effect my amulet has upon me.  I am totally enamored with the piece and it has become a permanent fixture upon my person.  My siblings loved the amulets, each finding the one I chose for him/her was exactly what he/she wanted.  Each of us have truly bonded with our amulets.  What you and Grey Eagle create are truly works of art, from another dimension.  Mahalo nui.    Dan D.,  Boulder, CO

7.  Dear Ones....For all you do...For who you are ...For what you give...For how you teach...

                        For the wonders you create...For the humor you share...

                        For the prayer you wrote...For the love I feel for you...

                        I am eternally grateful!!!    Peg V.,  Savannah, GA 

8.  ....I followed your directions upon opening the package, and experienced a throbbing of blood through my body, a chill, and finally a calm which made me aware of sounds, like the purring of my cat in the next room and the birds outside.  Be assured that I will never part with my pendant, as I think of it as a part of myself.  Thank you again for this part of yourself and all it represents.  I will treasure it always.    Erika N., Broomall, PA   

9.  Marci & Grey Eagle....The "Lightening Bolt" amulet is powerful.  Thanks for the medicine.    Jennifer    Atlanta, GA

10.  Grey Eagle & Marci....Thanks so much for holding the necklace for me.  It is so unique and filled with spirit.  Also real special that both of you put your talents in them.    Mitakuya D.,  Knoxville, TN

11.  You two have enhanced our joy of being with your wisdom, laughter and love.  Thank you.  Christine & Bill B.,  Jonesboro, GA

12.  My Friends....Just a note to say how glad I am to have you two in my life....May the Spirit be with you.    Tom P.,  Atlanta GA

13.  Marci & Grey Eagle....I asked Dan to bring the amulets and rattles to class.  I had my students feel the energy and use them to clear charkas...I love the new "Cross"...It's energy reminds me of someone taking a step, like a boy becoming a brave.  An initiation rite of passage.  It is the honor of taking the step that makes wearing it so sweet!    Mary N.,  Boulder, CO

14.  Dear Marci & Grey Eagle....Thanks for showing us all your beautiful work!  Your art is so special & healing...it is privilege to own these pieces.    Gail & Nevin L.,  Atlanta, GA

15.  Marci....Here is the other check.  This was for a small cross that a beautiful black man bought.  He is one of the most gifted healers I have met in a long time.  He just loves the vibration of the stone.  It is SO his.  Amazing how each one finds just the right person.  M.B.N.,  Boulder, CO

16.  Dear Grey Eagle & Marci....Thanks again for a very uplifting celebration of life, mine.  Sometimes just having friends like you makes all the difference & then some.  Neil W.,  Marietta, GA

16.  ....I am wearing the little "Earth" amulet as we speak.  I love her.  She reminds me of the trees.  I see an old Indian sitting under a tree near her loving the sun on his back.  He talked to the trees and you can still hear the whispers of them in the wind.  That is how the energy feels to me.    Mary N.,  Boulder, CO

Digi Mic Web Design Copyright 2004